News
12th EGTC Platform in Liberec
December 2022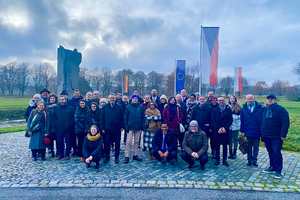 The 12th Platform of EGTCs of the European Committee of the Regions was organised on the 24th and 25th of November 2022, within the framework of the Czech Presidency of the EU, in Liberec (CZ) close to the triple border point between Germany, the Czech Republic and Poland.
Following the awarding of the 2022 EGTC prize to the EGTC GO active on the Italian-Slovenian border on November 24th (see our article), a round table on themorning of November 25th provided an opportunity to take stock of European political progress on cross-border cooperation and future prospects, in particular with the resumption of exchanges on the draft European regulation on the resolution of obstacles (the ECBM). The Committee of the Regions will draw up a report on the ECBM 2.0, for which Magali Altounian, deputy mayor of Nice, regional councillor SUD and member of the Committee, will be the rapporteur, the objective being the revision of the first proposal for a regulation by the European Commission, also supported by the Parliament.
Following these exchanges, an ESPON study on cross-border public services in Europe (in which the MOT participated) was presented; then a final round table, moderated by Jean Peyrony, director-general of the MOT, highlighted the good practices of EGTCs in the EU. The 12th platform ended with a field visit, which focused on mobility and emergency services.
Back to list