Cross-border issues
Cross-border issues
Crossing a border presents an opportunity for finding work, receiving healthcare, accessing services, exchanging with one's neighbours, etc. But the inhabitants of border regions face obstacles that hamper these exchanges on a daily basis. Cross-border cooperation aims to resolve these difficulties, promote the resources linked to the border and build common living spaces.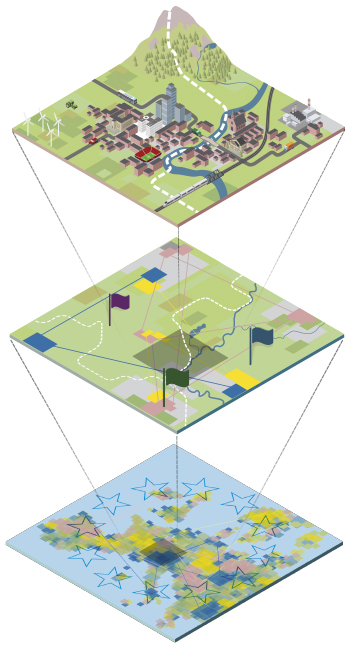 local level
Cross-border territories require specific management by local and regional players. This management takes the form of thematic projects1 and integrated territorial development across the whole of the cross-border territory.


National level
Countries with shared borders need to adapt their policies to take account of cross-border issues, support cooperation between local and regional players and cooperate with one another in their own areas of competence.
The objective is to find solutions to common issues by coordinating legislation, policy and domestic funding across each border.

european level
The European institutions promote cross-border integration:
- by providing the support of cohesion policy (INTERREG) to cross-border regions;
- by creating legal tools suited to projects and territories, such as the EGTC;
- by developing sectoral policies that meet the needs of cross-border regions;
- by promoting networks for exchanges on the issue of borders.
In the different areas of local and regional action (the economy, employment, the environment, services, etc.).