SaarMoselle Eurodistrict
Countries:
Germany , France
Regions concerned:
Germany: Saarland
France: Moselle Department, Grand Est Region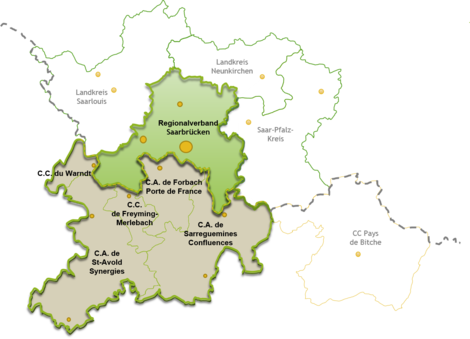 On either side of the border, around the conurbation of Saarbrücken and eastern Moselle in France, two distinct spaces have developed: on one side Saarbrücken is evolving quickly, characterised by a strong services sector, and on the other side the French territory is undergoing a process of industrial restructuring.

In terms of cross-border cooperation, the challenge for this grouping of territories is to reach a better balance between the two sides. However, things are evolving quickly and the cross-border actions being taken are many and diverse in nature.

The creation of the SaarMoselle Eurodistrict on 6 May 2010, in the form of an EGCT, is helping to accelerate and improve the implementation of pertinent cross-border projects, with the ultimate aim of bringing the two territories together as a more coherent whole, corresponding to a real shared cross-border living space.