News
State Visit between France and Belgium: advances for cross-border matters
December 2018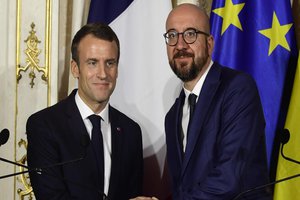 On the occasion of the French president Emmanuel Macron's visit to Belgium on 18 and 19 November, a declaration of intent on strengthening cooperation in matters of cross-border mobility and transport was signed by the two countries:
"Considering the common border between France and Belgium, 620 km long, crossed each day by 25,000 residents in France who travel to Belgium to work, and by 5,000 residents in Belgium coming to work in France; considering that the border area [...] is crossed by several strategic axes of the Trans-European Transport Network [...], and that the potential that is present on either side of the border remains considerable [...]", the two signatory governments wish by this declaration: "to lay down the principles of bilateral cross-border cooperation in matters of transport, both at the national and local levels, to establish joint controls of road freight transport, to share and to exchange on the implementation of public policies pertaining to mobility, to study the possibility of joint actions, at both the European and international levels."
The declaration notably identifies very precise objectives in matters of local railway cooperation to propose an offering that meets the needs of cross-border mobilities.
Another important development: an item devoted to governance establishes a "Franco-Belgian Mobilities Committee (COFRABELM)". It will meet twice a year to follow the progress of projects, analyse obstacles to be removed with a view to proposing solutions, and organise the exchange of good practice around national public policy pertaining to mobility.
----------------------------------------------
The bilateral exchanges have also led to progress on the Seine-Nord canal project, which is intended to link the waterways network of all northern Europe to that of France, with a tripartite convention signed on the "Cross-border Lys Valley".
Back to list