News
A cross-border waste water treatment plant between Belgium and Luxembourg
November 2019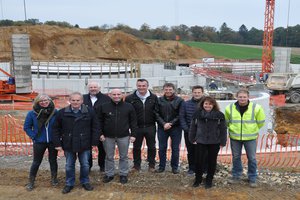 On 30 October 2019, the construction site of a new cross-border waste water treatment plant was presented to the public – a large-scale project on the border between Belgium and Luxembourg.
Located near to the border post at Steinfort, the new cross-border facility will replace existing Belgian and Luxembourg plants that have become too antiquated and small.
Served by a waste water collection network covering several kilometres, the plant, which will have capacity of 15,600 population equivalent, will have an impact on the quality of the water of the River Eisch and downstream on the quality of the water of the Moselle.
Led by Idélux-eau (BE) and SIDERO (LU), this project is receiving financial support from the Greater Region Interreg programme.
More info:
Press relese [FR]
Map
Back to list