News
A new Benelux convention
March 2014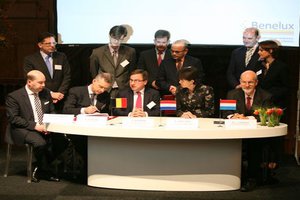 With the launch of the Dutch presidency of the Benelux Union, a new "Benelux Convention on Cross-Border and Interterritorial Cooperation" was signed on 20 February in The Hague.
In 2014, the Dutch presidency will emphasise three priority areas: cross-border labour mobility, transport and logistics, and fraud prevention. In this regard, the desire to develop an Internet portal aimed at cross-border workers, as well as measures to improve road traffic and to jointly combat fraud and social dumping have been set out.
Among the new elements in the new convention, which "renews and strengthens the 1986 convention", is the expansion of cooperation with Germany, France and the United Kingdom.
Back to list