News
Ecological transition: a charter for Greater Geneva
February 2023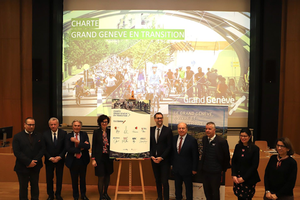 On January 26th, 2023, the eight partners* of Greater Geneva signed a "Greater Geneva in transition" charter, agreeing on the ecological transition issues for the cross-border conurbation.
"This is a founding act of the work of Greater Geneva", explained Antonio Hodgers, President of Greater Geneva and State Councillor of the Canton.
Thanks to the charter, "the partners agree on the challenges of the ecological transition by sharing and expanding their respective experiences developed over many years, particularly in the fields of water management, protection of air quality, and enhancement of biodiversity".
Greater Geneva thus specifies its vision for the future of the cross-border conurbation by setting out the strategic directions and the framework for joint action to respond to the climate emergency and to preserve the shared vital resources.
The political charter includes 10 environmental and social objectives which set a general framework to which cross-border actions must refer.
https://www.grand-geneve.org/signature-de-la-charte-grand-geneve-en-transition/
https://www.grand-geneve-en-transition.org/actualites/fiche-actualite/la-charte-politique-grand-geneve-en-transition-est-signee
---
* The State of Geneva, the Canton of Vaud, the Pôle métropolitain du Genevois français, the Auvergne-Rhône-Alpes Region, or the Department of Haute-Savoie.
Back to list