News
Franco-German cross-border cooperation: "Six proposals to innovate in the heart of Europe" - A parliamentary working group set up
June 2018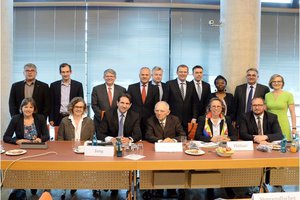 The report by the MP of the Bas-Rhin Department, Sylvain Waserman, was officially submitted to the French Prime Minister on 18 May. It sets out six proposals aimed at promoting a "renewal" of Franco-German cross-border cooperation, in the perspective of the forthcoming new Elysée Treaty.
The six proposals concern:
1- Learning the language and the culture of the neighbouring country as a "mutual priority".
2- The institution of a "binding Cross-Border Development Plan to set out a common vision and priority projects".
3- Three decisive territorial innovations: "a principle of territorial differentiation for Eurodistricts, local cross-border EPCIs (public intermunicipal cooperation bodies) and new forms of cross-border cooperation to meet the challenges of the economy of the future".
4- The launch of a "Franco-German Commission for Cross-Border Strategy" which would be dedicated to "the acceleration of cross-border development".
5- The creation "of a permanent body to facilitate consistency in citizens' rights and turn cross-border territories into laboratories for European convergence".
6- The affirmation of "Strasbourg as the capital of European citizens".
More info - The report in French
The MOT assisted the parliamentary team in the drafting of these proposals.
In parallel, a Franco-German working group made up of 18 French and German MPs was set up to draft a "Franco-German Parliamentary Agreement" on cooperation between the two national assemblies. It will meet regularly during 2018 and will conclude its work before 22 January 2019 (the 56th anniversary of the Élysée Treaty). It is to participate in the intergovernmental negotiations on the new Treaty. It has just adopted two positions, on:
- "Deepening cross-border cooperation between France and Germany"
- "Implementing projects of cross-border benefit: the 'border regions package'".
More info [FR]


Copyright photo : Deutscher Bundestag, Achim Melde
Back to list