News
Signature of an agreement at the French-Spanish border
May 2018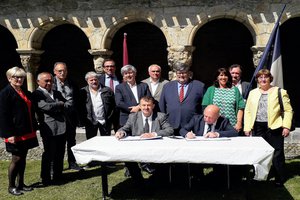 The Pyrenees Haute-Garonne Community of Municipalities and the Aran Conselh Generau held a ceremony on 20 April in Fos to commemorate the 505th anniversary of the signing of the " Lies et Patseries" Treaty.
On this occasion, a framework agreement was signed between the two territorial authorities, in particular to set up a cross-border working group whose primary task will be to provide "a commitment to cooperation and cross-border partnership between the two territories that is sustainable over time".
The agreement also sets out key areas of work to be developed such as sustainable development, culture, the economy, security, agriculture, tourism and infrastructure.
Download the framework agreement [FR - ES]
Back to list