News
Seminar on French-British cooperation
December 2015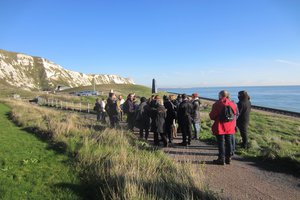 The Pas-de-Calais Department has solid relations with its British neighbours, which have resulted in many projects and the signature of a cooperation agreement with the County of Kent.
At a seminar co-hosted on 25-26 November 2015 by the Pas-de-Calais Department and the General Secretariat for Regional Affairs of the Nord-Pas-de-Calais Region, in which the MOT participated, the opportunities offered by this cross-border cooperation were reaffirmed and set out in detail.
The Prefect of the region recalled the key role played by cross-border cooperation in this territory marked by crossings and exchanges (British investment in the region, tourism, etc.). In particular, he mentioned the European Straits Initiative, led by the Pas-de-Calais Department since 2010, which feeds into these exchanges the experience of 22 partners from 13 European countries. More info
The seminar was an opportunity to present to central government officials in the region and regional public structures the outlook for the coming years: how can cross-border cooperation evolve? What projects can be implemented? Two European cross-border cooperation programmes give financial support to projects; above all, they provide opportunities for innovation, adaptation of public policy and the construction of long-term partnerships.
The seminar was followed by a visit on the ground that introduced participants to the Landscapes and Nature for All (LNA) project devoted to the preservation of the environment and raising public awareness. It has resulted in the creation of a network of nature parks on either side of the Pas-de-Calais Strait, with the sea dividing very similar geological structures and landscapes.
Another project that was presented was the Cross-Border Observatory to Optimise Public Service Delivery, which has developed a new method for analysing the needs of users in order to adapt public services and increase their accessibility. Concrete results produced by the project: the Bougeco.com transport platform and the Public Services Centre in Fauquembergues which houses different public services on the same site, along the lines of Kent's "Gateways".
Back to list