News
Results of ADEUS's conference on the Strasbourg-Karlsruhe area
April 2019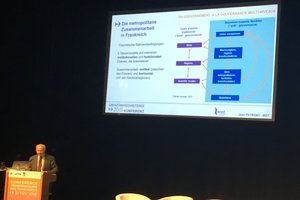 ADEUS (the Strasbourg Conurbation Development and Urban Planning Agency) and the heads of the two cities on either side of the Rhine held a conference in Strasbourg on 27 February entitled: "What are the issues facing a cross-border metropolitan area Strasbourg- Karlsruhe and their Eurodistricts?". The presentations are now available.
Two plenary sessions and three workshops provided a forum to discuss the opportunities, models and challenges that have emerged following the signature of the Aachen Treaty. The speakers gave an assessment of the concrete actions being implemented on the ground, pointing out the barriers, but also providing ideas, analyses and proposals to remove them.
Summaries of a few of the presentations:

Anne Pons, Director General of ADEUS, set out the metropolitan issues regarding the Strasbourg-Karlsruhe area, which has a population of 3 million inhabitants, highlighting the cross-border synergies to move from a "territory passed through" to a "territory with a project", and the complementarities to be strengthened between the cities, towns and rural areas. The presentation

Gerd Hager, representative of the Cross-Border Metropolitan Regions Initiative (IMeG, Germany), presented the concept of metropolitan regions in Germany. On the basis of the IMeG obstacles and first successes in identifying metropolitan functions along Germany's borders, he described the cross-cutting levers (governance, observation) and policies to promote national strategic coordination in Germany. The presentation.

Jean Peyrony, Director General of the MOT, presented metropolitan cooperation initiatives in France and their application in cross-border settings, with the examples of the three cross-border cooperation models on which the MOT works for the metropolises of Lille, Strasbourg and Nice. He notably highlighted the different levels of cooperation – cross-border territory, Euroregion, macroregion – and the need for vertical cooperation between institutions. The presentation.
Back to list