News
French-Swiss innovation fair in Auvergne-Rhône-Alpes
February 2018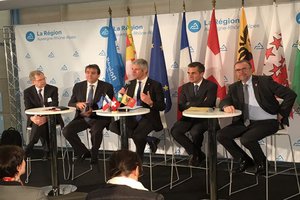 The "Rencontres franco-suisses de l'économie et de l'innovation en Auvergne-Rhône-Alpes", an 'economy and innovation fair', was held for the first time in Lyon on 15 January 2018.
On the programme were presentations of cross-border projects, as well as workshops in the digital, biotech and medtech fields, education and training, and naturally, research and innovation. Sharing a language, a culture and a rich common history, the Auvergne-Rhône-Alpes region and the Geneva and Vaud Cantons, as well as Valais, affirmed their desire to strengthen their exchanges.
For Laurent Wauquiez, President of the Auvergne-Rhône-Alpes region, the 600 or so kilometres of border with Switzerland are a "link that must enable the creation of a world-leading common economic zone, the European Silicon Valley of tomorrow".
* In partnership with the clusters and competitiveness centres, as well as the France-Switzerland Interreg programme.
Back to list