News
CNFPT-MOT meeting
October 2017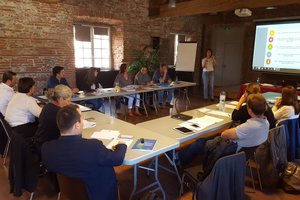 In the context of its partnership with the CNFPT (French National Centre for the Territorial Civil Service), the MOT organised, with a number of partners, different training sessions.
A first session, held in July in Perpignan, aimed to raise awareness among elected representatives and technicians of the general framework and the challenges of cross-border cooperation. A second session, held in October, aimed to give local stakeholders the keys to understanding the tools of cross-border cooperation and to deepen the methodology of project development through testimonies from existing cooperation projects.
A session was also held on 5 October in Marseille on the topic "Diplomacy and territories". The session enabled a review of recent developments (White paper, the Letchimy law) and to discuss tools and means of intervention for local and regional authorities in matters of external action, and notably cross-border cooperation. This event brought together more than 150 participants.
Back to list