News
Youth meeting from the Alpenrhein-Bodensee-Hochrhein region
September 2018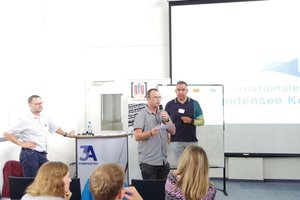 Around 50 young workers from the border region between Germany, Switzerland, Austria and Liechtenstein got together in June 2018 for the first transnational symposium of young workers.
During the meeting, held in Neuhausen am Rheinfall in Switzerland, they exchanged views on the forms of work and working conditions in the region and presented best practice examples as well as ongoing projects. The main thrust of symposium was "investing in youth does not only means constructing places for youth but also bringing youth to democratic processes, in a humorous and age-appropriate way", and the wish of "furthering cross-border networking and projects".
The symposium was organized by the Youth Working Group of the International Lake Constance Conference (IBK), under the direction of the Government Secretary of the Principality of Liechtenstein Horst Schädler, and was conducted by the GFGZ, a Swiss-German think tank oriented to promotion of cross-border cooperation, a member of the MOT network since 2016.
More info: GFGZ, CH-Neuhausen am Rheinfall: info(at)gfgz(dot)org - www.gfgz.org
Back to list