News
Meeting with Commissioner Elisa Ferreira
February 2022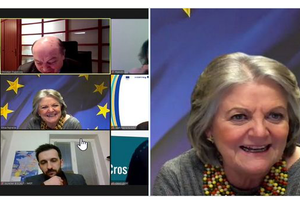 On 25 January, a videoconference brought together the European Commissioner for Cohesion and Reforms, Elisa Ferreira, the MOT's President, Christian Dupessey, the AEBR's President Karl-Heinz Lambertz, and CESCI's Vice-President, Zsuzsanna Fejes.
The three founding partners of the European Cross-Border Citizens' Alliance presented the Commissioner with their Strasbourg Declaration of 7 October 2021, recalled their ambition to keep cross-border cooperation at the heart of the European project, and reiterated their commitment for their organisations to work ever more closely together.
They recalled that cooperation has been able to develop thanks to support from the EU: freedom of movement, but also the Interreg programmes. They proposed to pool resources in order to facilitate the work of the Commission and other institutions (Committee of the Regions, Council of Europe, etc.). They undertook to draw up, as early as spring 2022, an operational roadmap to this end.
The Commissioner congratulated the three organisations, which together have a considerable reservoir of experience. She recalled how the pandemic has confirmed the need to recognise cross-border economic and social communities, and to support cross-border labour markets, the ecological transition, and cross-border governance and public services.
She initiated a discussion that focused on the role of Interreg programmes and EU tools, as well as on the need for a new European tool to overcome cross-border obstacles.
Christian Dupessey highlighted the issues of cross-border citizenship at the heart of European citizenship, and the need for account to be taken of cross-border regions in the revision of the Schengen Code, one of the priorities of the French presidency. He renewed his invitation to the Commissioner to the second Borders Forum on 21-22 June 2022 in Paris, which has the endorsement and support of France's EU presidency.
Back to list