News
"What governance for geographic information?"
September 2017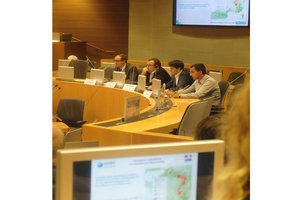 In association with the Grand Est regional council, the AFIGEO (French Association for Geographic Information) and the CNIG (French National Council for Geographic Information) took the INSPIRE European Conference of 4 and 5 September as an opportunity to bring together French-speaking players of the profession in the context of a "Francophone conference on geographic information".
This event was organised around workshops, round tables, and conferences.
The MOT moderated a workshop entitled "Cross-border territories: how is geographic information used at different levels?" during which it was able to highlight its experience in matters of cross-border observation, and to present new tools, such as the GéoRhena geoportal or the Greater Region GIS, which tend to be developed in cross-border areas.
Back to list