News
Publication of the study on the impact analysis of legislation on cross-border areas
May 2023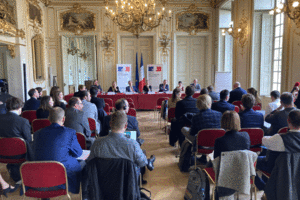 The Treaty of Aachen mandated the Franco-German Cross-Border Cooperation Committee (CBC) to analyse the impact of legislation on border regions, with the aim of avoiding "the emergence of new legal difficulties in everyday cross-border life".
It is in this context that a study on the evaluation of the impact of legislation on cross-border areas was commissioned by the German Federal Foreign Office to the Euro-Institute of Kehl, the Institute for Transnational and Euregional Cross Border Cooperation and Mobility of the University of Maastricht (ITEM) and the MOT. Its objective: to develop recommendations for the implementation of impact studies on border areas in the legislative process.

The study that has just been published was officially presented on May 2nd in Strasbourg to 70 French and German experts (40 in person). This presentation was followed by an interactive exchange which allowed to develop concrete proposals for the implementation of such impact studies in Germany and France.

Download the study [in French]
Read the article: "Several studies on cross-border cooperation on Germany's borders"
Back to list