News
White Paper on the future of Europe: reflections and scenarios for the EU27 in 2025
March 2017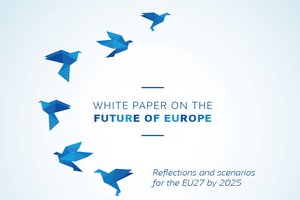 The White Paper published by the European Commission on 1 March 2017 sets out five scenarios, each giving an idea of how the EU might look in 2025 depending on the choices that Europe will make.
Scenario 1: Carrying on;
Scenario 2: Nothing but the single market;
Scenario 3: Those who want more do more;
Scenario 4: Doing less more efficiently;
Scenario 5: Doing much more together.
The issue of the status of borders and crossing them is mentioned in each of the scenarios.
Back to list