News
The work of the ESPON programme and cross-border public services
February 2019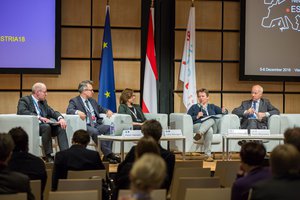 The cross-border dimension was at the heart of the ESPON seminar "New Narratives for Territorial Development" which took place in Vienna on 5-6 December 2018.
The MOT's Director, Jean Peyrony, took part in the policy lab "A Framework for Renewed Cross-Border Cooperation?" on the issue of obstacles to cross-border cooperation. Andreas Faludi, the author of "The Poverty of Territorialism", was also present. More info - Seminar presentation
Two ESPON projects resulted in the publication of major studies addressing cross-border issues:
- a study on cross-border public services in Europe published within the framework of the CPS project (Cross-border Public Services);
- the final report of the COMPASS project (Comparative Analysis of Territorial Governance and Spatial Planning Systems in Europe), which looks at developments in territorial governance and spatial planning systems in Europe from 2000 to 2016, with a case study on the Franco-Spanish border (page (67).
Back to list