News
The MOT's 2022 "Territorial meetings" are underway!
November 2022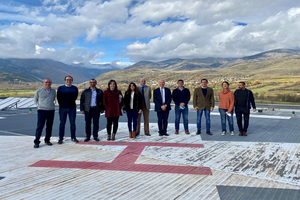 At the end of 2022, the MOT team is getting closer to the ground, meeting its members and partners at ten territorial cross-border meetings.
The first - on the Central & Eastern Pyrenees territory - took place on November 9th at the Cerdagne hospital, in the presence of many cross-border actors. It was followed by the "Southern Alps-Monaco-Centre" meeting the next day, and then in November with the "Upper Rhine" (on the 22nd), the "Western Pyrenees" (on the 24th), the "Jura Arc" (on the 29th) and the "Genevois-Northern Alps" (on the 30th) meetings. In December, four meetings are scheduled: "Hauts-de-France" on the 1st, "the Greater Region" on the 6th, "Ardenne-Meuse" on the 7th, and "Guyana" on the 12th.
See the map of the 2022 Territorial meetings.
These regular meetings enable the MOT to be closer to its members and to highlight the cross-border issues specific to each territory. They are held at the end of the year with the aim of building a work programme that is as close as possible to the needs on the ground.
Up next: the MOT's general meeting on February 7th, during which these exchanges will be transcribed into the work programme for 2023. See you there!
Back to list