News
The Strasbourg Eurometropolis's Cross-Border Cooperation Strategy
April 2020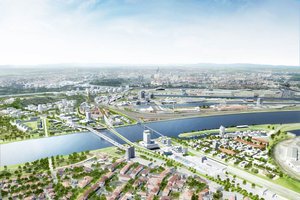 The territory of the Strasbourg Eurometropolis has an abundance of players and initiatives in the area of cross-border cooperation, for the most part designed and implemented with its German partners in Kehl and Ortenau. It also has several tools for dialogue and cross-border governance that enable it to foster and coordinate the daily contacts that make it one of the centres for cooperation in the Upper Rhine area.
With its Cross-Border Cooperation Strategy adopted in December 2019, the Strasbourg Eurometropolis sought to put forward a shared vision of its territorial development as well as responses to the different issues faced at the cross-border level in the areas of mobility, the energy transition, vocational training or innovation.

Entrusted to the Strasbourg Conurbation Urban Planning Agency (ADEUS) and benefiting from support from the MOT, this initiative was innovative in two respects. First, although the Strategy only covers the territory of the Eurometropolis, from start to finish it has involved all of the border territory partners, who were invited to contribute to it in the same way as French bodies like the Bas-Rhin Department and the Grand Est Region. Second, its pragmatic and evolving character give it a flexibility and adaptability that enable it to position the territorial authority in the most efficient way in a multi-level framework undergoing major institutional changes.

With its different topics set out in a roadmap at local, regional and supra-regional levels covering 11 priority projects, the Eurometropolis's Strategy formalises a new strategic vision of its action and anticipates the complete integration of the cross-border dimension in all of the territory's public policies.

More info on the Strasbourg Eurometropolis website [FR]
More info on the ADEUS website [FR]
To download in French:
Schéma de coopération transfrontalière de l'Eurométropole de Strasbourg - Feuille de route, décembre 2019
Read the article: What is a Cross-Border Cooperation Strategy?
Photo: SPL Deux Rives
Back to list