News
The Mont Blanc Observatory's report on climate change is now available!
February 2023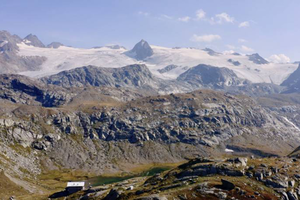 Mountain areas are particularly exposed to climate change: the mutations of ecosystems and their consequences on human activities develop more quickly and have stronger impacts than in plains.
In the heart of the Alps, the Mont Blanc area brings together local authorities of three countries around the highest peak in Europe. This emblematic territory, 80% of which is located above 1500m altitude, is a laboratory for the study of climate change and the implementation of adaptation strategies.
The Mont Blanc Observatory, a result of this trinational cooperation, is an online database that shows the evolution of this territory over the last 40 years. It is based on numerous scientific sources from the three countries and is regularly updated.Its first report on climate change in the Mont Blanc area is now available. It provides a concrete analysis of three indicators: the "Summer days" indicator which expresses the number of days (per year) during which the maximum temperature is higher than 25°C, the "Ice days" indicator (number of days per year with a maximum temperature lower than 0°C) and the "Duration of the vegetation season" which is a key indicator of the ongoing changes in the biosphere.
The Observatory was created thanks to the Integrated Cross-Border Project (2009-2013), then completed with the AdaPT Mont Blanc projetc (2017-2020), co-financed by the European cooperation program France-Italy ALCOTRA.
Back to list