News
The RECOTTE project on the ecological transition has revealed its results
May 2023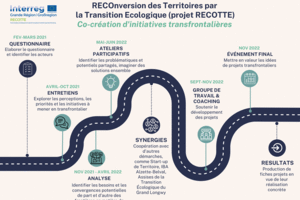 Financed within the framework of the Interreg Grande Région program, the RECOTTE [RECOnversion of Territories through Ecological Transition] project focused on the reconversion of territories through ecological transition on a local cross-border scale.
Its objective since January 2021 has been to support local actors in their transition processes, by bringing out potential cross-border synergies to respond jointly to climate and energy challenges, while co-constructing with these local actors leverage projects to carry out cross-border actions.

It was carried out by the LISER Institute (Luxembourg Institute of Socio-Economic Research) with three objectives:
to propose an innovative methodology to determine the priorities and initiatives to be carried out across borders at the local level in terms of ecological transition;
to organize the resilience of the cross-border territorial system by encouraging creation and imagination to face future environmental, economic and social risks and to meet the challenges of the ecological transition;
to test this methodology on three cross-border urban poles in Wallonia, France and Luxembourg in the former industrial basin which have different configurations and intensities of cross-border cooperation: the cross-border conurbation of Alzette-Belval; Messancy/Aubange/Pétange; Arlon/Steinfort.
The project has published its results in two final deliverables: a summary of the methodology and results, including 26 project sheets, and a roadmap.

More info
Back to list