News
Forum of the Basque Eurocity
November 2013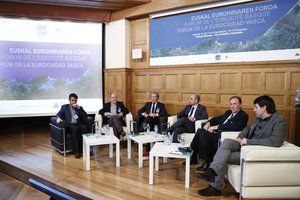 Organised by the Cross-Border Agency for the Development of the Basque Eurocity and the Donostia-San Sebastián City Hall on 14-15 November 2013 in San Sebastián, this event brought together the political, technical, institutional and socio-economic representatives of the Basque Eurocity.
The aim of the forum was to present ongoing projects, to discuss the strategic vision for the Eurocity of the future and to launch the process of drawing up the operational strategic plan for the cross-border conurbation for 2014-2020.
Nearly 200 people attended the numerous presentations and discussions. Among the major projects for the Eurocity discussed were: the rehabilitation of the banks of the Adour River, plans for urban regeneration around Irún railway station, urban projects concerning water treatment for the South Basque Country Conurbation and the project for Donostia-San Sebastián as European Capital of Culture in 2016. The Diputación Foral de Gipuzkoa (Gipuzkoa Provincial Council) also highlighted the impact of energy dependence on the Eurocity area and the potential represented by marine renewable energies. In addition to the presentations and exchanges regarding ongoing projects, the forum was an opportunity to discuss the Eurocity's future 20 years after its creation.
All of the elected representatives agreed on the need to carry out concrete projects that serve the Eurocity's citizens. A number of areas for work were identified as priorities: mobility, the environment, culture, tourism, infrastructures, languages, higher education, and technological research and development.
The press release (in French).

More info on the Basque Eurocity area.
Back to list