News
AEBR and the European Commission have released five new b-solutions' publications
February 2022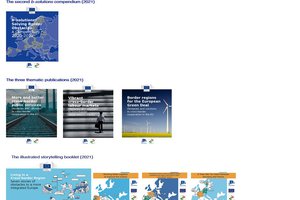 AEBR and the European Commission's DG REGIO have released a series of publications aiming at raising awareness of cross-border cooperation. These showcase relevant information gained through the implementation of the b-solutions initiative, which AEBR has managed on behalf of DG REGIO for the past four years.
Two compendiums and one annex showcasing the obstacles and relative solutions

of the 90 cases identified between 2018 and 2021.

Three thematic booklets

containing analyses of the common obstacles and solutions in the following fields: Cross-border Public Services, Education and Employment, European Green Deal.

An illustrated storytelling booklet that showcases 7 stories of border obstacles

and their impact on citizens in border regions.
More info – Download the publications : https://www.b-solutionsproject.com/library
Launched in 2017 to overcome such obstacles, the b-solutions pilot initiative aims to address specific legal and administrative obstacles hindering cross-border cooperation along the EU internal land borders.Since the launch of the initiative, the MOT has been commissioned to produce a legal analysis of six cases, relating to the recognition of the training and qualifications of healthcare staff, the schooling of pupils in border regions, the mobility of jobseekers for internships, the border crossings of emergency vehicles, and the legal structuring of a cross-border park.
Back to list