News
"FOCUS", a new thematic brochure by the MOT : "Les massifs aux frontières françaises"*
October 2020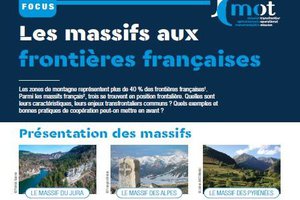 Mountain areas represent over 40% of France's borders. Among France's mountain ranges, three of them are located in border regions: the Jura, the Pyrenees and the Alps. This new brochure sets out their common cross-border issues and challenges, while also highlighting concrete cross-border projects.
This new format of thematic brochure, entitled "Focus" aims to spotlight the contents of the MOT's website: a site providing resources on cross-border cooperation organised by theme and by territory. View the "Territories" and "Themes" sections.
To download the brochure on France's mountain ranges (in French only), click here.
These publications are available in the MOT's documentary portal. Specialising in cross-border cooperation, this contains over 4,600 documents and documentary references. More info [FR] .
* "The mountain ranges along France's borders".
Back to list