News
EURegionsWeek – "Breathing without borders": the MOT's workshop
October 2021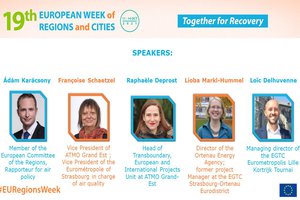 At a time when environmental health is a growing concern for citizens and the Commission is launching its ambitious "Zero-pollution action plan" within the framework of the European Green Deal, the MOT and its network decided to organise a workshop entitled "Breathing without borders: challenges in improving air quality in cross-border regions" during the European Week of Cities and Regions.
"Today we know enough about the effects of pollution: they are environmental, health-related and social, with the most vulnerable populations being the most exposed. It is time to act in coordination with our German neighbours!" stated Françoise Schaetzel, Vice-President of the Strasbourg Eurometropolis and Vice-President of ATMO Grand Est,1 having presented the progress made thanks to the ATMO VISION project.2 "This project has provided an initial response to the challenge of harmonising data in the Upper Rhine area by producing cross-border maps of air quality and analysing sources of pollution in a trinational setting."
Zooming in on the territory of the Strasbourg-Ortenau Eurodistrict, emissions linked to individual vehicle use have been highlighted, as in the case of the B-solutions project3 carried out to identify solutions aimed at solving the problem of the "Crit'Air" environmental stickers that are compulsory in the Strasbourg conurbation but incompatible with German vehicle stickers.
Involved in the Franco-Belgian project TRANSF'AIR, and located at the heart of a very dense urban region through which major highways pass, the Lille-Kortrijk-Tournai Eurometropolis emphasised the citizen-focused and political dimension of the challenges linked to air pollution in a cross-border setting: "EGTCs can play a crucial role in this respect to raise awareness and inform citizens".
Drawing on the recommendations that emerged during the workshop, the MOT has undertaken to respond to the consultation launched within the framework of the revision of European regulations in the area of air quality, whose aim is to bring European standards in line with the recommendations of the World Health Organisation.
View the three presentations:
1. The "ATMO VISION" project by ATMO Grand Est - Project factsheet [FR]
2. The "B-solutions" project on environmental vehicle stickers by the Strasbourg-Ortenau Eurodistrict - Project factsheet [FR]
3. The "TRANSF'AIR" project by the Lille-Kortrijk-Tournai Eurometropolis - Project factsheet [FR]
NB: the MOT also took part in the workshop of the TEIN network: "Citizens at the forefront of the development of cross-border living areas". More info
Streaming.
The workshop on the EWRC website.
---
1 Association responsible for the regulatory monitoring of air quality in the Grand Est Region.
2 Project piloted by ATMO Grand Est: https://atmo-vision.eu/
3 "B-solutions" are projects that benefit from legal support from an expert within the framework of the European programme for the resolution of cross-border obstacles. More info
Back to list