News
Editorial from Xavier Faure, Project Manager, Occitanie Regional Healthcare Agency
December 2016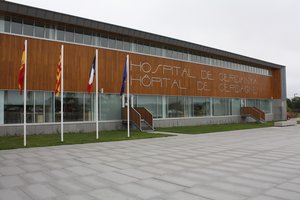 The Cerdanya Hospital, which is located on the border between France and Spain in the Catalan Pyrenees, is an unprecedented example in Europe of cooperation in healthcare (between the Autonomous Community of Catalonia and France).
This hospital, which is a cross-border institution in terms of its governance (EGTC-CH) and its funding (France, Catalonia), brings together doctors and hospital staff of both nationalities who provide healthcare using the same protocols and the same technical facilities with no distinction to French and Spanish patients who are covered by their respective social security systems.
When visiting it for the first time, one is pleasantly surprised by these teams in which medical staff work together, transcending their national background and speaking to one another in Catalan, Spanish or French while delivering high-quality technical and specialised healthcare in a remote area far from the big city hospitals (Barcelona and Perpignan).
The last hospital board meeting, which was chaired in turn by the Minister for Health of the Generalitat de Catalunya, Antoni Comin, and the Director-General of the Occitanie Regional Healthcare Agency Monique Cavalier, delivered a positive assessment of the hospital's activity, notably with an emergency department dealing with 25,000 cases a year and an imaging department using MRI and a scanner thanks to tele-imaging.
The forthcoming hospital plan, which will be drawn up in 2017, will set out a roadmap for consolidation, with the development of telemedicine and the strengthening of links with community medicine and referral hospitals.
With their enthusiasm and conviction that they are taking part in a European project that is helping to open up medical knowledge, the staff of the Cerdanya Hospital are giving us an example of successful cooperation.
Back to list