News
Editorial by Robert Herrmann, President of the MOT, President of the Strasbourg Eurometropolis
April 2019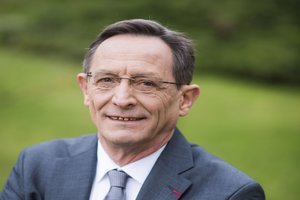 "In the run-up to the European elections, our work has taken on particular significance. The risk of a low turnout is encouraging us even more to continue our work of persuading our fellow citizens that they should make their voices heard regarding the kind of Europe they would like to see. The projects that were presented to us in Geneva and Annemasse, reflecting the progress in Franco-German cooperation, are exemplary. They show the way we are seeking to promote: a Europe made of concrete actions, at the service of its citizens; a Europe of territories."
"Cross-border integration is a great opportunity for our territories. But it needs to be backed up by cross-border public services that cover jobs, the economy, innovation, healthcare and mobility. This integration also needs to take account of the ecological transition and a reduction in the tax and social imbalances that persist along some borders.
Cross-border cooperation is now on the political agenda of governments and the European Union. This evolution is a result of the work of the MOT, whose advantage is that it brings together, in a constructive dialogue, all of the players from all levels – local, national and European.
To combine the specificities of each territory and the overall dynamic of European integration, stronger steering at national level and interministerial coordination are indispensable. The MOT wishes more than ever to work towards this, assisting the future National Agency for Territorial Cohesion, the ministries concerned and the Banque des Territoires. To do this, it needs their constant support."
Read the article: "The MOT's network in Greater Geneva"
Back to list