News
Editorial by Jean-René Etchegaray, President of the Basque Country Community
September 2022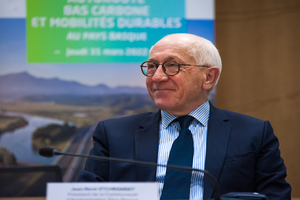 The Mission Opérationnelle Transfrontalière has chosen the Basque Country to host its General Assembly and we are very honoured. With its 150 km of borders and its position at the heart of Western Europe, our territory has a long history of cross-border cooperation, reinforced by the creation of the Basque Country Community in 2017.
Bringing together the 158 municipalities of the northern Basque Country, the Community has become a natural and privileged interlocutor of the local authorities and the State in this area.

We wanted to take advantage of the MOT's General Assembly to organize the first edition of our "Cross-border meetings", on the 5th and 6th of October in Bayonne. With these two events, we are making cross-border cooperation one of the priorities of our political agendas. We are indeed convinced that it is an effective and relevant response to contemporary challenges and one of the driving forces of the new Europe.

The MOT is a particularly interesting tool in this respect. The Basque Country Community has been a member of the MOT since its creation, which has enabled us to enrich our reflections and to benefit from its expertise in order to carry out numerous projects.
Let us continue in this direction for the benefit of our fellow citizens, across the border!
Read the article: The Basque Country Community hosts the MOT General Assembly
Photo: Communauté Pays Basque L.Tomassi
Back to list