News
Geodata dedicated to innovative projects in Greater Geneva
April 2017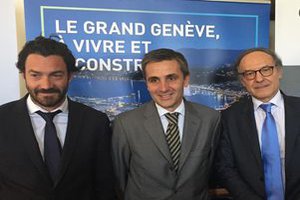 Helping entrepreneurs located on either side of the border to create new digital services thanks to geodata on Greater Geneva – this is the aim of the Interreg project "Geofab Greater Geneva" launched on 4 April 2017.*
The principle of Geofab is to facilitate the exploitation of a large number of digital spatial, land registry and geographical data, accessible as open data, by selecting and supporting innovative Franco-Swiss digital projects through four calls for projects over two years. The objective is:
- to help project developers to put their innovative digital services on the market;
- to promote access to digital geographical data by project developers in the Greater Geneva area;
- to develop the digital market at the cross-border level.
* The partners in the project are the University of Geneva, the Canton of Geneva and the French Geneva Region Cooperation Assembly (ARC), supported by technical and institutional partners.
Back to list