News
Discover the different missions of the MOT on the whole French-Belgian border
May 2023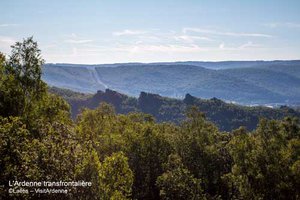 The MOT is currently involved in numerous missions from the south-east to the north-west of the border between France and Belgium. It is working in both metropolitan and peri-urban or rural cross-border territories. Let's take a look at the border from the south-east to the north-west:
In the department of Meuse, a recent member of the network, the MOT is supporting

the "Small Town of Tomorrow" of Montmédy

(2100 inhabitants) in the implementation of a cross-border territory project.
On the 8 km segment that unites the department of Aisne and the province of Hainaut, the MOT has accompanied

Hirson, a "Small Town of Tomorrow"

of 8500 inhabitants, by providing a report on its opportunities for cross-border cooperation.
Several other missions are underway in the northern department:
- In connection with the Communauté d'Agglomération Maubeuge Val de Sambre (CAMVS), the MOT has been accompanying the cross-border Sambre-Avesnois since the fall of 2022 in the definition of a cooperation strategy between the conurbations of Mons, Charleroi and Maubeuge. More info.
To learn more, listen to the podcast "Agglo Time" [FR] in which Nicolas Leblanc, vice-president of the CAMVS responsible for territorial and cross-border cooperation, presents this cooperation strategy and the added value of the MOT's support on the territory.
- The MOT is conducting an experiment on the concept of "living area" on a cross-border scale, involving several sites, including the Eurometropolis Lille-Kortrijk-Tournai. More info

Note: the MOT is preparing an event on maritime cooperation, particularly in the Franco-Belgian area, on September 15th, 2023 in Lille. More information to come in the next few weeks!
Back to list