News
Cooperation in the renewable energies field between Andorra and France
September 2018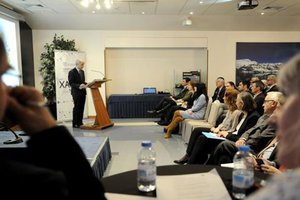 The first day of French-Andorran exchanges on the topic of energy was jointly held in April 2018 by the Pyrénées Orientales and Andorran chambers of commerce and industry, brought together within the PirineusMED Chamber of Commerce and Industry in the context of the Interreg POCTEFA 2014/20 programme and the DERBI competitiveness cluster. High attendance of French and Andorran entrepreneurs contributed to the day's success.
Accompanied by his Minister for the Environment, Agriculture and Sustainability, Silvia Calvó Armengol, the Prime Minister of Andorra, Antoni Martí Petit, emphasised the need for a change in the energy model for Andorra.
This close cross-border relationship, since 8 March 2018, will lead to the signing of a convention between the University of Perpignan, and SUP'ENR - the only French engineering institute dedicated specifically to power engineering and renewable energies - for the training of Andorrans in this field.


Back to list