News
Conference in Metz on French-German cross-border cooperation
July 2015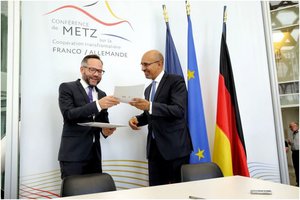 A French-German ministerial conference, attended by French secretary of state for European affairs Harlem Désir and his German counterpart Michael Roth, both general-secretaries for French-German cooperation, took place on 6 and 7 July in Metz.
Two years after the Saarbrücken conference in July 2013, the event brought together elected representatives, institutional entities including the MOT, and representatives of civil society. In agreement with the regions and Länder concerned, the two ministers signed the Declaration of Metz, a joint declaration defining a common agenda for stepping up cooperation, in particular in the areas of integration of the employment and professional training markets.
According to Harlem Désir, the objective is to "make sure that the next generation is bilingual. […] Here and there we see that some people want to re-erect borders. We must aim for the opposite. Borders are not walls, they are bridges."

Note: A paragraph highlights the importance of the initiatives taken with regard to territorial statistical observation for the cross-border regions.
Back to list