News
Understanding the flows and functioning of cross-border living areas?
May 2023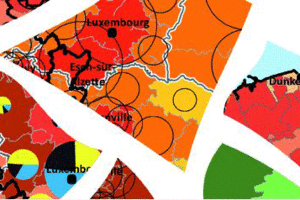 On April 13th, 2023, the second meeting of the MOT-ANCT working group dedicated to observation, co-hosted by the Atlantic and Pyrenees Urban Planning Agency (AUDAP) and the French Riviera Agglomeration Community (CARF), took place.
This exchange followed a first session in October 2022 which focused on employment and economic development for which it is often difficult to find cross-border data. Following this meeting, the group wanted to work on the issue of cross-border flows other than "home-work" flows. Today there is an increased need for better knowledge of the nature of these exchanges, which would allow for an understanding of cross-border territories that is as close as possible to reality.
The session of April 13th made it possible to present various projects, in particular to see those which could be reproduced on other borders:
Cerema presented the MMUST project, a methodology to observe cross-border travel flows in the Greater Region.
The Pyrénées-Atlantiques departmental tourism agency and the company Orange presented "vision flow" data and how it can be used across borders.
The CCI (Chamber of Commerce and Industry) of Moselle presented a survey on cross-border consumption between the Grand Est region and its neighboring countries.
Around these three insightful presentations, the many participants were able to express their needs. A new meeting is planned for the autumn!
The recordings of the session and all the presentations are available to members in the Members' Area of the MOT website [in French only]: click here.
Back to list