News
Taking stock halfway through France's presidency of the Greater Region – Clément Beaune proposes restarting discussions on the ECBM
March 2022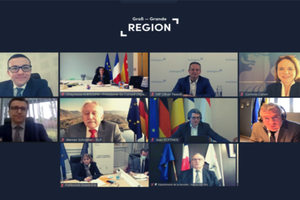 In January 2022, the Summit of Greater Region Executives took stock at the midpoint in France's presidency, particularly with respect to the industrial, digital and energy transitions, flood and drought risk prevention, food and promoting short supply chains, culture, youth, sport and tourism, healthcare and security.
It was announced that an interim report on crisis management in border regions will be produced by the end of France's presidency of the EU Council. It is expected to set out recommendations aimed at the regional, national and European levels for better management of future health crises.
Clément Beaune, Minister of State for European affairs, outlined by video message the priorities of France's presidency and his desire to "do more", by proposing to restart discussions on the European Cross-Border Mechanism (ECBM) aimed at removing legal and administrative obstacles in cross-border regions, initiated by the European Commission in 2017: "We can start up this discussion again – I remain at your disposal to take this mechanism forward, or other tools with the same purpose," he declared.
The event also was a chance to recall that the town of Esch-sur-Alzette on the Franco-Luxembourg border is "European Capital of Culture 2022".
Back to list