News
8th Meeting of the Working Group on innovative solutions to cross-border obstacles
September 2018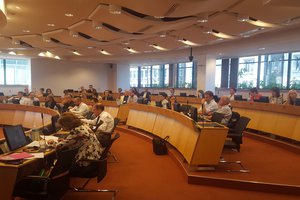 The 8th meeting of the Working Group on innovative solutions to cross-border obstacles was held on 28 June 2018 at the European Committee of the Regions in Brussels.
The European Commission's DG REGIO was able to present the proposal for a regulation on the European cross-border mechanism, as well as to discuss informally with the representatives of the States and European Institutions on the content of the proposal.
The second part of the meeting was dedicated to a brief presentation of lessons learnt from the B-Solutions call for proposals, as well as the experience of the Working Community of the Pyrenees in the resolution of cross-border obstacles.
Back to list