News
26th Franco-Spanish summit: towards "a comprehensive cross-border strategy"
April 2021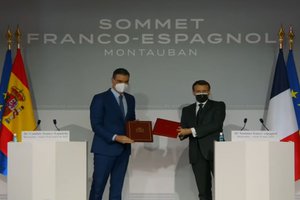 On 15 March 2021 the 26th Franco-Spanish summit was held in Montauban, the first to be held between the French President, Emmanuel Macron, and the President of the Spanish government, Pedro Sánchez. As well as an agreement on recognition of dual nationality and management of the Covid crisis, cross-border issues were at the heart of the discussions.
Moving towards "a comprehensive cross-border strategy"

"Two future projects for the Franco-Spanish relationship" were talked about in these terms by Emmanuel Macron: "We will soon embark on a comprehensive cross-border strategy for our two countries, made necessary by the symbiosis between the territories on either side of the Pyrenees."* He also announced "the launch of consultations for a future bilateral cooperation treaty".*

Stepping up cooperation in many areas

The desire to pursue cooperation in different areas was flagged, for example in the area of healthcare regarding issues such as the free provision of medical care by healthcare professionals on either side of the border, recognition of their qualifications, enhancing the attractiveness of the Puigcerdá Cross-Border Hospital, and the procedures involved in cooperation regarding emergency medical assistance. There was also focus on cooperation in the field of education: bringing education systems in line with one another, cooperation between campuses and training centres, and recognition of skills acquired by students during periods of mobility.

Other agreements were signed on issues such as electricity and rail connections, innovation, hydrogen, electronics, connectivity and the cloud.


More info: https://www.elysee.fr/emmanuel-macron/2021/03/15/26eme-sommet-franco-espagnol
* See paragraphs 31 and 32 of the joint declaration.
Back to list