The MOT's work on cross-border cooperation in West Africa
Study and MOT-African Union cooperation programme
In 2010 the MOT conducted a study for the OECD Sahel and West Africa Club to produce an analysis for use as a basis for formulation of proposals to improve cross-border cooperation between Mali and Burkina Faso in both institutional and practical terms (for example the mango industry1). The results were incorporated into a guide to cross-border cooperation in West Africa.
A review seminar was held in June 2010 in Burkina Faso. It was the opportunity to present the conclusions and organise a debate with the representatives of the ministries and the African Union, the mayors of border municipalities, economic operators, etc.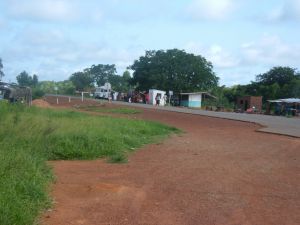 The border between Mali and Burkina Faso, at Koloko
This work also opened the way to new partnerships with organisations working on the African continent and willing to share know-how and experience of cross-border affairs. In December 2010 the African Union, through its Border Programme, signed a partnership agreement with the MOT.
Download the agreement (in French).

In 2012, the MOT took part in the seminar of the African Union's Border Programme, which was held from 3 to 5 April 2012 in Debre Zeit, Ethiopia, bringing together representatives of African states and various organisations. Its aim was to formulate a strategic programme for the African Union Border Programme for the period 2013-2017.
Work in collaboration with UNCDF
The MO
T is currently working in a consulting role on the request of the United Nations Capital Development Fund (UNCDF) in order to assist the Local Cross-Border Initiative (LOBI) programme, which aims to bolster cross-border governance in Africa.
This global programme, forming part of the LOBI/UEMOA project, concerns eight states of the UEMOA (West African Economic and Monetary Union).
The project is being implemented through two pilot experiments, in partnership with the UEMOA and the Economic Community of West African States (ECOWAS). It aims to boost the capacities of local and national actors and to facilitate the financing of investments in the cross-border areas concerned.
More specifically, concerning the Greater Kénédougou area, to the south end of the border between Mali and Burkina Faso.