Exchanges with the European Parliament
The working group of the European Parliament on cross-border issues
On 27 November 2012, a Cross-border Networking Group of the European Parliament, dedicated to cross-border issues, was launched by two MEPs, Marie-Thérèse Sanchez-Schmid and Gilles Pargneaux.
Since May 2015, the EP Working-Group on Cross-border Cooperation has been relaunched under Anne Sander, MEP and vice-president of MOT. This parliamentary working group, in which MOT participates, meets regularly to treat important European issues from a cross-border point of view.
Under the presidency of Anne Sander, the group met nine times: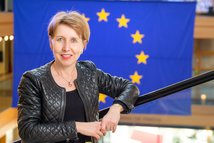 28 NovembER 2018 - MEETING ON the future of european territorial cooperation for post 2020: what opportunities and obstacles?
The objective of the Working Group is to "raise the problems of cross-border commuters, from the ground up to Brussels. We ask the EU institutions to act and to ease the lives of these people. I think about the initiatives in terms of cross-border healthcare, employment, transport system, taxation, labor market, concerning pension rights, mutualizing of public services, common use of resources, common strategies for the emergency services, for language learning, etc."
Anne Sander, MEP and vice-president of the MOT.
"Border regions require special attention. They must serve as a lens for us to analyse the advancement of the internal market and the progress of European integration."
Marie-Thérèse Sanchez-Schmid during the inaugural meeting.