Cross-border territories: Europe's laboratory
For its 20th anniversary, the MOT has published a brochure entitled "Cross-border territories : Europe's laboratory", an opportunity to take stock and look at the perspectives for its action and, more specifically, for cross-border cooperation in Europe.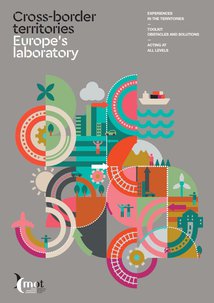 - Experiences presented in the Part 1 are best practices and may inspire other borders.
- In response to the obstacles that still pose a problem, the tools developed in the Part 2 are a true toolkit.
- Part 3 brings responses at local, regional, national and European level, to face issues of cooperation.
Download the PDF document: in french, in english
The projects described on this page reflect the results of more than 20 years of cooperation. 20 single experiences carried out by MOT members in the service of inhabitants of cross-border territories are highlighted, as well as other projects carried out by MOT members after the network mobilization.
Only available in French: click here