About the MOT
The Mission Opérationnelle Transfrontalière (MOT) was established in April 1997 by the French government to "provide operational assistance to project stakeholders and, more generally, to cross-border territories".
A NetworK
The MOT network brings together cross-border cooperation stakeholders. Its members are diverse, representative of all levels of governance and actors implicated in cross-border projects, including states, local and regional authorities and their groupings, associations, federations, cross-border structures and major businesses.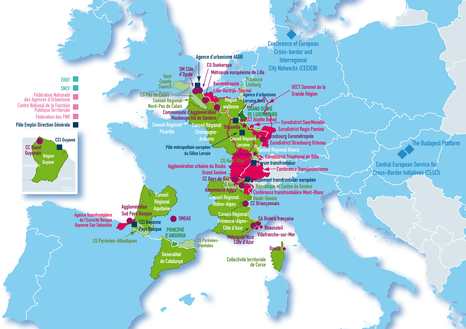 Map of the MOT members
A "MULTI-LEVEL" RELAY
The MOT is coordinated by its French institutional members, including the Commissariat Général à l'Egalité des Territoires (ex DATAR, Interministerial Delegation for Territorial Planning and Regional Attractiveness), the Caisse des Dépôts, the Ministry of Foreign and European Affairs and the Ministry of the Interior.
It is also in constant liaison with the European institutions.
This "multi-level" positioning (local, regional, national and European) enables it to encourage continuous dialogue between national and European authorities and local actors.