Eco²Mobility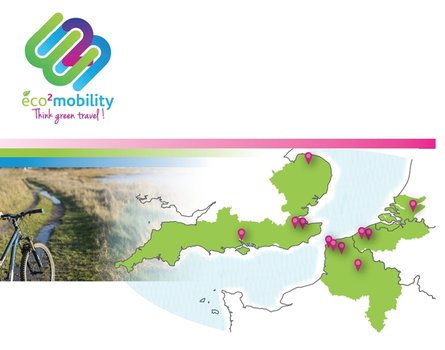 Countries:
Belgium, France, Netherlands, United Kingdom
Border(s):
Belgium-Netherlands
,
France-Belgium
,
France-United Kingdom
,
European programme(s):
Interreg IVA - 2 Seas
Topic(s):
-
Education, training and languages
-
The environment, resources and waste
-
Transport
-
Social inclusion
Lead partner:
Conseil départemental du Pas-de-Calais ; Comté du Kent
Ecomobility refers to the ability of individuals to travel by alternative modes to the private car (walking; cycling, public transport, car sharing) in an environmentally friendly, safe and healthy way.
They are committed to improving accessibility to services and resources by taking into account the target audience, adapting the information to their needs and raising awareness of Ecomobility. Three target groups have been identified by the Eco²Mobility cluster: Youth, Economically Disadvantaged People and Tourists.
Partners
Conseil départemental du Pas-de-Calais
Agence d'Urbanisme et de Développement de la Région de Saint-Omer
Communauté d'Agglomération du Boulonnais, Boulogne Développement Côte d'Opale
Strichting NHTV Internationale Hogeschool Breda
Kent County Council, SWSAL
Project goals
Raising supply and awareness of Ecomobility
Target group(s)
Youth, Economically Disadvantaged People and Tourists
Project activities
Editing a Practice guide for Ecomobility
Total cost
248 344 €
EU funding
248 344 € (100%)