SuMo-Rhine (Sustainable Mobility Rhine)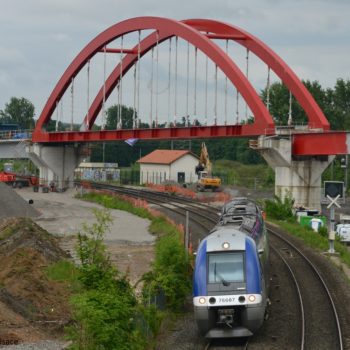 Countries:
Germany, France, Switzerland
Border(s):
France-Germany
,
France-Switzerland
,
Germany-Switzerland
,
Territories:
Strasbourg-Ortenau Eurodistrict
,
Basel Trinational Eurodistrict
,
European programme(s):
Interreg VA - France-Germany-Switzerland (Rhin supérieur-Oberrhein)
Topic(s):
-
The environment, resources and waste
-
Transport
Lead partner:
Institut de technologie de Karlsruhe – Institut franco-allemand de recherche sur l'environnement (DFIU)
Le projet "SuMo-Rhine - Promouvoir la mobilité durable dans la région du Rhin supérieur" vise à optimiser les systèmes de transport dans les zones métropolitaines de Bâle et de Strasbourg. Une analyse des transports transfrontaliers existants doit permettre de juger de leur efficience et d'évaluer l'impact des politiques de mobilité.

En se basant sur les résultats de cette analyse, les partenaires du projet formulent des propositions d'amélioration des politiques, avec pour objectif de promouvoir la mobilité durable respectueuse de l'environnement et d'encourager l'usage des modes de transport alternatifs.
Partners
Ministère de l'économie, des transports, de l'agriculture et de la viticulture de Rhénanie-Palatinat (DE)

Université de Coblence-Landau (DE)

Energiedienst Holding AG (CH)
Project goals
Promouvoir la mobilité durable dans les métropoles de Bâle et de Strasbourg

Adapter les politiques de mobilité aux besoins de la population

Développer de nouvelles liaisons transfrontalières dans l'espace du Rhin supérieur

Proposer des solutions écologiques et économiques de déplacement
Project activities
Analyse et évaluation des systèmes de transport transfrontaliers existants

Elaboration d'un système d'indicateurs, des modèles et des cartes sur la mobilité

Formulation des propositions des nouvelles politiques de mobilité

Développement d'une application mobile présentant les modes alternatifs de transport dans les zones concernées
Project duration
à partir de septembre 2018
Total cost
2 720 000 €
EU funding
1 460 000 €