Kiosk Office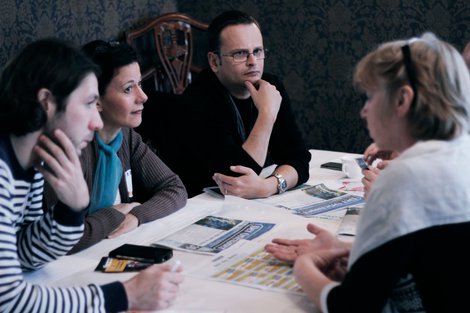 Countries:
Germany, France
Border(s):
France-Germany
,
Territories:
Strasbourg-Ortenau Eurodistrict
,
Topic(s):
-
Employment
-
Cross-border economic development
Lead partner:
StartHop, company creation consulting
The Kiosk office was inaugurated in July 2nd 2014 in Offenburg and Strasbourg. French and German entrepreneurs can use a cross-border working space to satisfy their expectations to develop their company across the border. The Kiosk Office is led by Start Hop, a business creation consulting company created in 2008.

The Kiosk Office is intended to be a working and meeting place for the cross-border economic network. It is a venue for workshops and courses on the French-German market, and provide innovative bilingual services.

This cross-border space is intended for mobile entrepreneurs and workers who need freedom and flexibility: business creators, start-ups, freelancers, salespersons, microbusinesses, etc. A total of 30 places are available for a day, a week or six months.

The KiosK Office also enables French and German entrepreneurs to immerse themselves in a common economic culture and study the market of the neighbouring country. Services (WIFI, professional address, etc.) and cross-border animations (thematic breakfasts, language classes, meetings with CEOs) are provided to the Kioskers.
Partners
Eurodistrict Strasbourg-Ortenau (France-Allemagne)
Eurométropole of Strasbourg (France)
Maison de l'Emploi et de la Formation (France)
Chambre de Commerce et d'Industrie de la région Alsace (France)
Chambre des Métiers d'Alsace (France)
IHK Südlicher Oberrhein (Germany)
Hochschule d'Offenburg (Germany)
Agentur für Arbeit d'Offenburg (Germany)
TechnologiePark d'Offenburg (Germany)
Project goals
To help French and German companies to promote cross-border projects and to enhance business relationships between France and Germany
To foster business creation in a circular economy
Project activities
The "Project cafés" were created by Start Hop in november 2012. The meetings set up in Strasbourg, Kehl and Offenburg. The Project cafés and thematic after-work events are organised in the French and German spaces in order to strengthen the links across the border between entrepreneurs.

More information on the project factsheet from the handbook "Cross-Border economic development", MOT 2015.
Photo: Rhein & Schwarz
Project duration
Start on July 2nd, 2014