INTERSYC - Integrated Territorial Synergies for children health and protection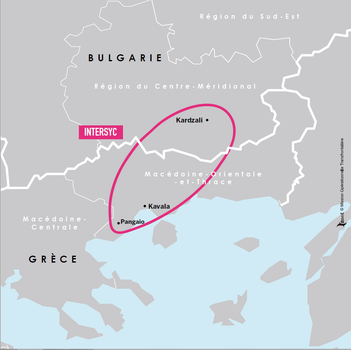 Countries:
Bulgaria, Greece
Border(s):
Bulgaria-Greece
,
European programme:
Interreg IV 2007-2013
Topic(s):
-
Healthcare
-
Social inclusion
-
Public Services
Lead partner:
Organisation the Smile of the Child (Grèce)
Le projet INTERSYC, mis en oeuvre par l'organisation The Smile of The Child et ses partenaires, a pour objectif l'amélioration de l'offre de soin, de la prévention et de la protection sociale à la frontière greco-bulgare, en particulier concernant les enfants et leurs familles. Il s'agit de lutter contre l'isolement régional de la zone en termes de santé et contre des phénomènes d'abus et de traite d'enfants ayant eu lieu dans les années 2000. Pour cela, le projet consiste en la mise en place d'actions, séminaires, formations par les différents partenaires, œuvrant dans ce but.
Partners
Association Chance (Bulgarie)
Fondation "Nadja Centre" (Bulgarie)
Inspection régionale de la santé de Kardzali (Bulgarie)
Villes de Kavala et Paggaion (Grèce)
Project activities
Le projet vise trois axes :
Les situations d'urgence du fait de la disparition d'enfants
La prévention et les soins
L'offre de service socio-sanitaires pour les familles et enfants en difficulté
Project duration
2013-2015
Total cost
624 362€
EU funding
530 708€ (FEDER)