FURGY CLEAN Innovation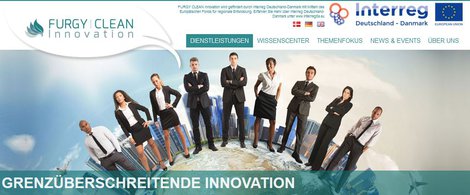 Countries:
Germany, Denmark
Border(s):
Denmark-Germany
,
European programme:
Interreg VA - Denmark-Germany
Topic(s):
-
Economic development
-
Research and innovation
-
Energy
Lead partner:
Industrie- und Handelskammer Schleswig-Holstein (Chamber of commerce and industry, Germany)
The cross-border cluster "FURGY CLEAN Innovation" helps the regional companies in the area of clean energy, with various services developed together with interested stakeholders.
Schleswig-Holstein and Denmark also have a big potential for innovative activities, building upon the previous success in the energy transition, especially on intelligent energy systems, energy efficiency and storage. While small and medium sized enterprises (sme) in the programme region are facing challenges in order to stay competitive, FURGY CLEAN Innovation will increase the ability of smes to adapt to market changes through innovation. Companies can profit from experience sharing and technology transfers, develop partnership to be bigger and innovate together.
The cluster will enable private companies as well as research institutes and private citizens to use a broad knowledge base. The cross border approach of economic development and innovation will also be promoted to the administration and policy-makers in the region.
Partners
Wirtschaftsförderung und Technologietransfer Schleswig-Holstein GmbH (Scheswig-Holstein Economic issues and Technology transfer, Germany)
Forschungs- und Entwicklungszentrum Fachhochschule Kiel GmbH (Kiel Center for Reasearch and Development, Germany)
Fachhochschule Kiel (Kiel University of Applied Sciences, Germany)
CLEAN cluster (Denmark)
UdviklingsRåd Sønderjylland (Denmark)
Kalundborg Forsyning A/S (municipally owned company, Denmark)
Syddansk vækstforum (Denmark)
Project goals
Foster the development of innovation activities in the field of clean energy : innovation, efficiency, storage and intelligent use
Sustainably strengthen of companies from the program region
Intensify the connection to neighbouring regions, buiding up sustainable cooperation structures
Target group(s)
Companies in the field of energy and innovation.
Project activities
Events, webinars for expertise sharing and creating partnerships
30 companies taken through the "ticket to innovation" process
Project duration
2015-2019
Total cost
3 Millions €
EU funding
60%