Fonds de rencontre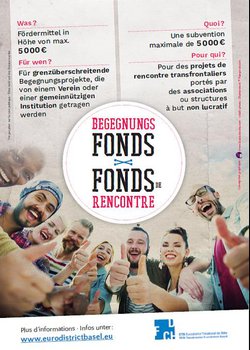 Countries:
France, Switzerland, Germany
Border(s):
France-Germany
,
France-Switzerland
,
Germany-Switzerland
,
Territories:
Basel Trinational Eurodistrict
,
Topic(s):
-
Culture
-
Microprojets et dispositifs similaires
-
Social inclusion
-
Sport
-
Société civile
-
The environment, resources and waste
-
Education, training and languages
Lead partner:
Eurodistrict Trinational de Bâle
Le fonds a été mis en place en 2016 et durera jusqu'à l'épuisement complet des financements alloués. En règle générale, les subventions s'adressent à des associations ou autres structures à but non lucratif œuvrant dans le domaine de la culture, jeunesse, sport, etc.
Un montant de 15 000€ sur le budget total a été réservé pour les rencontres de classes (5000€ par an sur une durée de trois ans à compter de la rentrée scolaire de septembre 2017). Une sélection des rencontres aura lieu et une dizaine de projets par année seront retenus et financés à hauteur de 500€ par projet.
Project goals
Le fonds a pour objectif d'encourager des projets de rencontres et d'échanges bi- ou tri-nationaux.
Target group(s)
Associations et structures à but non lucratif
Total cost
Montant global : 200 000 €; montant disponible par projet : 5000 €; cofinancement : 60%
EU funding
Pas de fonds européen FEDER