ERMES-Rhin - Evolution de la Ressource en Eau et Monitoring des Eaux Souterraines dans le Rhin supérieur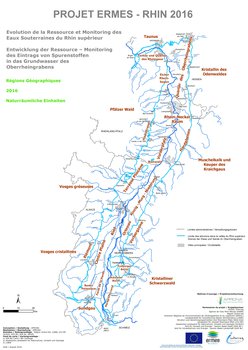 Border(s):
France-Germany
,
France-Switzerland
,
Germany-Switzerland
,
Territories:
Tri-national Metropolitan Region of the Upper Rhine
,
European programme(s):
Interreg VA - France-Germany-Switzerland (Rhin supérieur-Oberrhein)
Topic(s):
-
The environment, resources and waste
-
Watercourses
Lead partner:
APRONA - Association pour la Protection de la Nappe Phréatique de la Plaine d'Alsace
Le projet ERMES-Rhin a pour objectif majeur d'améliorer et de renforcer les savoirs concernant les polluants connus et les polluants émergents à l'échelle de la nappe rhénane dans le but de définir des propositions communes d'actions et de mobiliser les différentes autorités compétentes qui pourront s'appuyer sur ces aides à la décision pour impérativement reconquérir et préserver la qualité de cette ressource en eau.
Pour ce faire, le projet met l'accent sur la prise en compte novatrice à l'échelle transfrontalière de l'état de la qualité des eaux souterraines au regard des micropolluants dits « émergents » (ex. les résidus médicamenteux, les produits plastifiants, les édulcorants, …) en plus des substances phytosanitaires et autres paramètres standards déjà analysés lors des campagnes précédentes. Sa portée permet de dépasser le simple constat en établissant des propositions communes d'actions visant à réduire la pollution de la ressource en eau et à restituer une qualité acceptable du milieu selon les usages.
Partners
Français :

Région Grand Est
AERM - Agence de l'eau Rhin-Meuse
Direction Régionale de l'Environnement, de l'Aménagement et du Logement Alsace

Allemands :

LUBW - Landesanstalt für Umwelt, Messungen und Naturschutz Baden-Württemberg
Hessisches Landesamt für Umwelt und Geologie (HLUG)
Amt für Umweltschutz und Energie - Kanton Basel-Landschaft
Amt für Umweltschutz und Energie - Kanton Basel-Landschaft
Struktur- und Genehmigungsdirektion Süd Rheinland-Pfalz (SGd Sud)
Landesamt für Umwelt, Rheinland-Pfalz (LFU RP)


Suisses :

Canton Bâle-Campagne - crédit cadre NPR
Canton Bâle-Ville (NPR)

Project goals
Polluants émergents : Acquisition des premières connaissances transfrontalières dans la nappe rhénane
Echange de connaissances sur les polluants émergents et mutualisation des méthodes et techniques analytiques

Propositions communes d'actions

Mobilisation des décideurs compétents (européens, nationaux, régionaux et locaux)
Target group(s)
Habitants de la région métropolitaine trinationale du Rhin supérieur et décideurs politiques.
Project activities
Le projet prévoit :
Des études sur les polluants connus et potentiels des nappes phréatiques
Project duration
2016 - 2018
Total cost
2 277 655 €
EU funding
1 054 828 €