Carpooling and mobility at the heart of the Greater Geneva area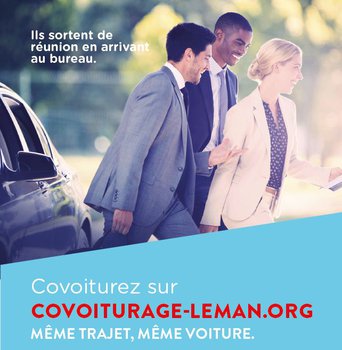 Countries:
France, Switzerland
Border(s):
France-Switzerland
,
Territories:
Greater Geneva
,
European programme(s):
Interreg IVA - France-Switzerland
Topic(s):
-
The environment, resources and waste
-
Transport
Lead partner:
Local Grouping of Cross-Border Cooperation for Public Transport Cooperation
The project promotes the practice of carpooling among inhabitants and workers of the Greater Geneva area.
There are indeed more than 88,000 inhabitants on the border who commute from France to the Greater Geneva area every day! Three actions have been implemented: the creation of a carpool service (drivers and passengers), the improvement of adapted infrastructure (for example carpool spaces), and the creation of a web platform (covoiturage-leman.org).
Partners
Departmental Council of Haute-Savoie (France)
Departmental Council of Ain (France)
Vaud Canton (Switzerland)
Valais Canton (Switzerland)
Chablais Region Association (Switzerland)
Republic and Canton of Geneva (Switzerland)
Project goals
The initiative aims at finding solutions to decongest traffic in the road network and at the same time at preserving the quality of life and the attractiveness of the Greater Geneva area.
Target group(s)
Inhabitants and workers of the Greater Geneva area.
Project activities
Organising a cross-border carpool service: the website offers a search engine which centralises every ride offers in the area. The web platform is based on existing local solutions (Ziplo, covoiturage74, covoiturage 01, etc.)
Creation of cross-border carpool parking spaces.
Please click on the following link: www.covoiturage-leman.org
Project duration
Website launched in September 2015.